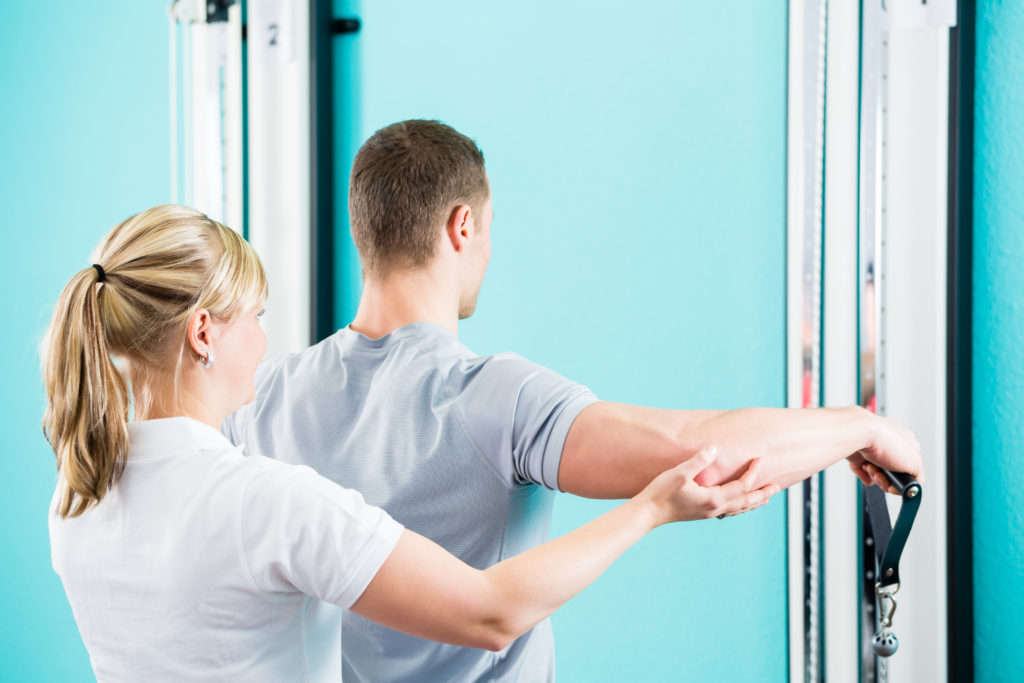 01 Jul

Women in Sports Chiropractic: How 3 DCs Earned Their Way to the Pros

By Christina M. DeBusk

There are two types of people in this world: dreamers and doers. The first have great visions of making it to the top of their field. The second actually do what it takes to get there.

Here are three women who firmly belong in the second category within the sports chiropractic profession, as well as the journeys that have taken them into some of pro sports' top slots.

Mary Collings, DC – Team Chiropractor for the NHL's Dallas Stars and NBA's Dallas Mavericks

Though Mary Collings, DC, has been in the field for more than 20 years now, chiropractic has always been a big part of her life. Raised by a grandmother who was a registered nurse yet still believed in conservative medicine, Collings shares that she went to the local chiropractor "every month from the time I was five until I left for college. So, when I was trying to decide 'what to be when I grow up,' it just seemed the right profession to focus on."

As far as how she got into sports chiropractic specifically, Collings indicates that this path was not in her original plans. Instead, her journey began when she was traveling with a friend who was "obsessed with pro-beach volleyball." Left sitting in the sun for hours, Collings said she got bored and, while walking around, saw an ad for a type of table used at her chiropractic school. That's when she met Dr. Tim Brown, the medical director for the tour at the time.

"He allowed me to volunteer that weekend and help with the athletes," says Collings, "and it was so rewarding that, when I got back to school in Dallas and told Dr. Parker (founder of the chiropractic school), he offered to assist me with the travel expense if I could get an internship with the AVP tour." While on her way to the first official tournament with them in Hawaii, Collings met a reporter on the plane. The reporter introduced her to one of the NFL players in Hawaii for the Pro Bowl and, after she was able to help him with some physical issues, the reporter sent her to another athlete, and, well, you get the picture.

After graduation, Collings opened a small office in Dallas, which happened to be the same summer that the NHL moved into town. The athletes she worked with recommended that she offer her services, so she did. "I approached the team trainer and gave him my credentials, which were very limited at the time," says Collings, "so I continued to send him my CV, but this time I included the NFL athletes as references. I am guessing that got me in the door. He sent me one of his athletes and I have been with them ever since." That was in 1993, but fast forward to 2005 and the trainer for the Dallas Mavericks was looking for someone, when the Stars trainer recommended Collings. "I have been with that team since as well," she says.

When it comes to working with these top athletes, Collings says, "I always try to remind students when they ask me about working with professional teams that the trainer is the key to the sport. The responsibility lies on him to take care of these athletes daily and we are just part of the supporting cast. So be good to them, work well for them, and you will stay around awhile!"

When asked about what it's like to be a female in a world of men's sports, Collings shares, "I feel as though I have always belonged there. I have never had any inappropriateness directed at me, nor have I ever felt like I didn't belong. It is their locker room, I am just there to help the training staff help their players. With the world of constantly increasing #metoo, I feel that I am a #notme."

Karen Slota, BS, DC – Team Chiropractor for the NFL's Detroit Lions

Every March, the NFL holds its annual Scouting Combine, an event that enables the pro teams' coaching staff to check out up-and-coming prospects prior to the draft. The 32 chiropractors working with the teams travel to Indianapolis for this as well, but among them stands only one woman: Karen Slota, BS, DC.

"I remember the first combine I went to," says Slota, who is now entering her fourth year as team chiropractor for the Detroit Lions. "I spent the first few days crying my eyes out, I could hardly stand it. All these young girls wanted to have their picture taken with me. That blew me away. It made me realize what my impact was on these young women." But how did she get to this top slot?

Growing up in Iowa, in what she calls the "chiropractic belt" due to its proximity to Palmer College of Chiropractic, Slota says her parents were always big chiropractic supporters. Yet, after high school, Slota joined the Coast Guard, where she worked for ten years before realizing that a career in chiropractic made perfect sense for her.

When asked how she decided to specialize in sports chiropractic, Slota revealed that it was "by default" she went down this path. A competitive athlete herself in weight lifting, power lifting, and bodybuilding who had some of her own sports injuries while competing, she began to incorporate the techniques that helped her heal into her practice for her patients. "Next thing I knew, my practice was all athletes," she says.

When it comes to working with a pro sports team, like Collings, Slota says that this was "never on my radar." However, because she had trained in a number of different modalities, such as dry needling and Active Release Technique (ART), she had the reputation of being a "hybrid" healthcare provider, making her a contender for an open chiropractic position with the Lions. A position she didn't initially want.

"I turned it down twice," says Slota, primarily because she was a solo practitioner and wasn't sure how to keep her office going while still tending to the needs of the team. Eventually, they convinced her to go in and try it for a couple of days at their training camp and, when that time was complete, they asked her to stay on for another month. "That was 4 years ago," she says.

Slota shares that it has taken a bit of time to earn trust and respect from the other healthcare professionals within the NFL. "When I first started out, they would stand over my shoulder," she says. "That's totally understandable. If you're treating Matt Stafford, you have to prove yourself." Now, she is often left to treat the players without so much as a second glance.

Talking to Slota, it is 100 percent clear that she loves what she does. "I don't have to do this, I get to do this," she says.

Sabrina Atkins, DC – Team Chiropractor for the NBA's Orlando Magic

Sabrina Atkins, DC, shares that, to her, the chiropractic profession is a natural fit because she's always enjoyed science and "has a desire to help individuals achieve better health without drugs or surgery." Focusing on sports is natural for her as well because, like Slota, Atkins was an athlete herself. This taught her to "love and appreciate the capacity of the human body and it's potential," she says. However, after encountering challenges from injuries that were mismanaged, Atkins says that her athletic career was soon gone.

Now her goal is to help her patients so they don't have to suffer the same fate. "I wanted to be a part of helping others with a better experience," she says. Plus, working with athletes brings her lots of joy. "I love working with those who are motivated to be a better version of themselves," says Atkins. "Working with athletes makes that easy." But how did it start?

"At Life University, as I was working on my Masters of Sports Injury Management, I worked with the athletes at the school," says Atkins. "When I finished my chiropractic program, I started traveling with the women's basketball team as the team chiropractor." Then, in the Summer of 2001, Atkins became the first student to "travel-to-treat" as part of the International Softball Federations World Softball Competition.

After leaving the university, Atkins says she moved to Orlando and "donated lots of time" volunteering at a variety of sporting events, some of which included USA Judo, USA Taekwondo, FCA Sports Council events, and the Sunshine State Games. "I constantly volunteered which allowed me to meet some outstanding professionals in sports chiropractic, as well as sports medicine and performance," she says.

Atkins also began working with the Orlando Ballet, donating her services to them as well. "As my name and reputation grew, more people referred to me," she says. "And when athletes and sports organizations were looking for a sports chiropractor, they were referred to me from the people I had met during all of the volunteer work I did."

This began Atkins' journey, one which has evolved into her working with Tom Shaw's NFL training camp at Disney's WWS; Orlando's first soccer team, the Sharks; Orlando's first lacrosse team, the Titans; the Orlando City Soccer team (during their first season); and now Orlando Magic, the team she's worked with since 2008.

"I have worked hard to become an experienced, well-versed sports chiropractor without losing sight of my goals," says Atkins, adding that "it has been tough at times." Still, she loves what she does and is excited about the future. "I can't wait to see where else this passion of mine will take me," she says.

DoCS is committed to raising the bar in chiropractic for athletes, so if you have any questions or article ideas, please feel free to contact us or share them in the comment section below. Reprints of this article permitted as long as it links back to the DoCS website: www.DoC-Sports.com.